Pixar Studio's newest feature film is arriving in theaters this Thanksgiving, and it will be the first pixar film to be released in the same year as another (ie. Inside Out) Pixar is also not slowing down. In 2016 we'll be getting Finding Dory, the sequel to Finding Nemo, followed by Toy Story 4 and the brand new property, Coco, in 2017.
Either way, Pixar is one to always push the envelope in terms of technical achievements. In Good Dinosaur, the focus was on Environmental Effects. For example:


A Look at foilage from Bug's Life (1998)
A rainy shot of procedurally placed foliage in The Good Dinosaur (2015)
Also Water has seen a whole new breath of realism, using a new algorithm to calculate fluid mechanics. Notice how in
Finding Nemo
the Water looks to be made more of plastic that the more real photorealistic water from
The Good Dinosaur
:
Marlin looks for his son in Finding Nemo (2003)
Arlo gets whisked away in photorealistic water in The Good Dinosaur (2015)
Lastly,The film's settings are unlike anything seen in a Pixar movie until this point, with a focus on large and extremely accurate open areas. The film's environments were created using terrain mapping technology to capture the actual geometry of several areas found in the American wilderness and then using that data to recreate photorealistic landscapes for huge areal shots.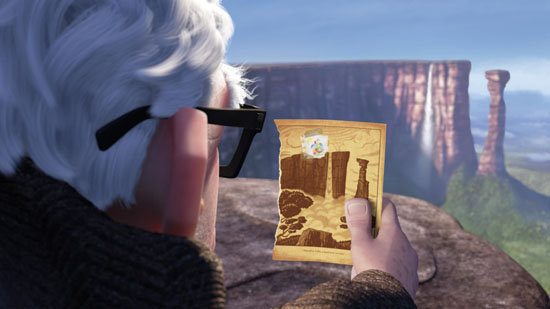 The Terrain from Up (2009)
Procedurally Generated Terrain made for The Good Dinosaur (2015)
With all the added hype surrounding this new feature, and the suggestion to work on title sequences for upcoming films I've decided to try creating a title sequence for The Good Dinosaur. I think creating a Title Sequence from scratch without having a preexisting idea of what the original looks like, I will have much more creative freedom to create my own!