A friend of mine recently told me about Stargate Studios, an international production company that specializes in advanced production services and state-of-the-art postproduction. They have developed Virtual Backlot Live, which is one of the best, low-cost alternatives to shooting on location. Virtual Backlot Live has a library that includes hundreds of virtual environments from around the world. If a show is shooting on a backlot in Los Angeles but takes place in New York, productions can use a green screen and video from the virtual library to make it appear that the scene is in New York.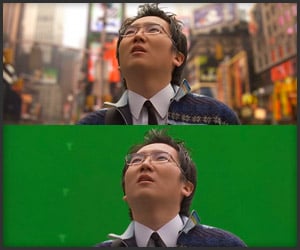 On their
website
you can browse their stock library which has tons of different locations. I definitely recommend exploring the website and checking out their gallery. They've posted a few reels that show some of the work they've done and there is a section on their website called
"Before and After"
that has a lot of cool behind the scenes interactive pictures. They have done a lot of work for shows such as
Grey's Anatomy
,
Ugly Betty
,
The Walking Dead, 24,
and
Mad Men
.
Here's their backlot reel from 2009: